Medical Equipment and Supply Video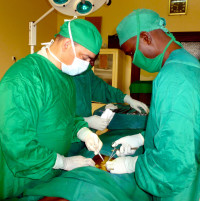 If you are a medical supply company or drug company then the odds are that you have a medical product to sell. These products run the gamut. You may sell blunt end scissors, C-PAP units or a drug to help with the blood flow in a persons arteries. Whatever it is you are selling, it will certainly sell better if the buyer can see it in action and or on or in a body.
This is all possible through the use of a professionally produced video or animation. Most of us know by now that video is the most powerful communication tool next to actually holding, feeling and seeing the product in action in a live setting.
Here at In Focus Studios, we have 20 years of experience producing videos. Equipment instructional videos for medical devices, capturing live surgeries, medical conferences, marketing videos and medical educational videos are all within our scope of work.
Animation is also a great way to educate the buyer of your product especially when the product needs to swallowed in order to work. The animation can take the buyers view into the blood stream if needed. It can follow a single cell and then enter the cell to show how your product works. This is just one example. Another video that comes to mind that we created was for an allergist. He wanted a educational video that addressed local allergies in a particular region of the country. In this case, it was the Maryland, DC, Virginia area. This video was displayed on a monitor in the waiting room of his practice. This video educated his patients while they waited and acutally helped reduce his visit time as he no longer needed to answer as many questions about allergies.
For more information on medical equipment & supplies, educational, animation or sales videos, please contact us at info@infocusstudios.com