Project Description
We've filmed over 4,000 games and made 1,500 highlight videos.
Some of the games in that total include filming for The United States Naval Academy, Duke, University of Carolina, NC State, Howard University, Princeton, Villanova,Johns Hopkins, and Anne Arundel Community College. We know college and high school sports!
In today's competitive college market coaches will not take the time to review cluttered, unfocused video clips to assess an athlete's skill level. Crisp, concise, targeted college recruiting videos where the action of a player is highlighted are the name of the game (Pardon the pun!) In addition the temperament of a player is reviewed. If she/he fits with the other members of the team, it wins the candidate notice/a second look.
The video package is a 2-5 minute video piece which entails coverage from 2-3 games. The footage is shot by In Focus Studios on either a standard 6-7ft tripod or with our 24′ Everclear Tower. There is an additional charge if requesting the Everclear Tower.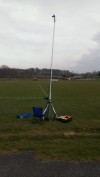 Footage supplied by the athlete can be used as well. Once the games are shot, we will post the games online for your review.
We offer two pricing structures for editing. You may have us go through the footage and choose the best plays, or you may give us the timecode of each play you would like to use. Either way, it is cut into the final piece which features the top 10 plays up front. This highlight video is put online for you to post on a profile page or email directly to recruiters.
Investment in the athlete by our producer is considerable. We are thrilled to contribute to their success.
Our staff can cover games located in Maryland, North Carolina, Virginia and Washington DC. Call us to review the two pricing structures that will give you a winning sports video.
Reasons you need a college recruiting highlight video…
A four year college education today can easily cost between $100,000 and $200,000. A recruiting video can save a student-athlete thousands of dollars and/or help him or her get into the school of choice. Thousands of full and partial scholarships are available from large Division I schools; Division II and III schools. They will also offer financial aid or preferred admission to a desirable student-athlete.