Project Description
Head- to- head competition is what makes sporting events powerful video. Via video and webcasting, we capture a professional athlete and novice enthusiast in action. It is our ability to have a sixth sense of where the key play will be that make us top videographers for sporting events. Utilizing our 24′ Everclear Tower, we get a fantastic birds eye view of the action!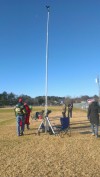 We shoot over 500 sporting events a year. In Focus Studios is the premier sports video company for football, soccer, lacrosse, basketball, field hockey, ice hockey, tennis, baseball, volleyball, softball, track & field, bowling, wrestling and stockcar racing. We are proud to say that we cover sporting events in Washington, D. C., North Carolina, Virginia and Maryland. As experts at catching quick action, we promise not to miss that once-in-a-lifetime moment.
Call us today and we would be happy to answer any questions you may have regarding sport videos.