You Want to Be Sure Coaches See Your Video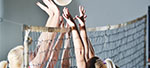 The Internet has completely how college coaches recruit on its head. Before the internet coaches would come out to a high school game to watch a student-athlete. This is pretty rare these days. Instead, many coaches now rely on watching highlight videos on Hudl,  YouTube and specific sites designed for high school athletes. It's an easier, more efficient way for coaches to initially evaluate recruits.
With so many coaches viewing athletes online, how do you make sure you get noticed? Keep reading to learn a few tips on how to make sure your highlight video will stand out.
Short is Sweet
With every new season, college coaches are very busy people with a lot of videos to watch and a lot of players to evaluate. What that means for you as an athlete is your video needs to be about 2-3 minutes max! The coaches I have spoke with from UNC, Duke, NC State, the US Naval Academy, Limestone and Princeton have all said that they typically watch 30 seconds to a minute and, in that short time, they'll decide if they want to continue to recruit an athlete or move on. You may have a 10-minute highlight video, but just know coaches won't be looking at the vast majority of your plays. An option would be to make several 2-3 minute videos to show how you have progressed throughout a season.
Put your best plays first
Given the brief time college coaches spend watching videos, it only makes sense to put your top 10 best highlights first. If you think that saving the best for last is the way to go, there's a very good chance coaches won't even get to it. One recruiter told me that if you are going to send me a highlight video, make sure they are highlights. You have one chance to make and impression, this video could be the difference between getting recruited or getting passed over.
Make sure coaches know where to look
There is nothing more frustrating for a coach then watching a highlight video that was shot so wide that the players look like ants and they have to guess which player to watch. Placing a circle or an arrow on the player  makes it easier for the coach to find you. Put yourself in the coaches' shoes for a minute. You have dozens of videos to go through and you're simply not going stop, rewind, pause and hunt for a prospect. You will just go on to the next video.
Game footage or skills footage? It depends on your sport.
Most college recruiters want to see your game footage and not video of you doing drills. Volleyball, baseball and softball are the few exceptions college recruiters want to see a skills video. For most other sports, especially, basketball, football, soccer and lacrosse, they want to see game footage.
No bad plays
As mentioned above, and though it may seem obvious, please leave out any plays that will not separate you from the pack. I do feel it is important to mention that coaches also look for leadership on the field. They want to see if you are a team player or a cry baby. So go ahead and put in the clip that shows you leading the team to victory!