I have had several questions recently about the cost of hiring a videographer/camera operator. It is the industry standard for a camera operator to charge either a half or full day rate for their services. You may find some videographers that will charge by the hour, but this is not typical. The rates vary from market to market, but generally fall into the $350-$550 range for a half a day and $650-$850 for a full day.
What do you get for that price? While I cannot speak for everyone, I can tell you that when you hire us, you get the following.
1. Camera Operator with professional camera
2. Tripod
3. 2 wireless mics
4. On camera light
5. Most importantly, an experienced camera operator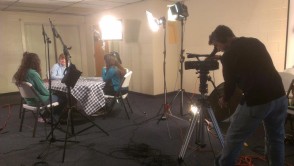 I cannot stress how important an experienced videographer is when it comes to producing a video. Not only will they know how to operate the camera, but suggest camera angles, lighting and the best way to get crisp, clear audio in any given situation. Heck, we have also helped with directing, wardrobe suggestions and last minute changes to a script, and did I mention, we were just hired as a camera operator. Pretty good deal!
Experienced videographers are used to wearing many hats. Not all productions can afford a lighting director or audio tech. So, next time you hire a videographer and question the price, remember, you are getting more then a person standing there pressing record on a video camera. If it were that easy then everyone with a camera would be making great company videos.
The following two tabs change content below.
Jeff is the founder of In Focus Studios. The company has serviced Maryland, DC, Virginia and North Carolina since 1999. Jeff began his video career by videotaping weddings, but was quickly introduced to the world of corporate video production. Since then he has produced marketing videos, medical videos and webcasts. He also works with athletes from Baltimore, Washington DC and Raleigh, NC. He is a fan of 80's music videos. He enjoys all aspects of video production, including lighting, directing and editing.
Latest posts by Jeff Philips (see all)