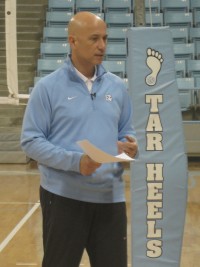 Typically, once a month I get a chance to speak with a college coach in regards to what makes a great college recruiting video. Today I got to speak with one of the most prolific winners in college volleyball today, UNC head coach Joe Sagula. Joe is entering his 24th season at Carolina and 33rd year overall. The winningest coach in North Carolina volleyball history, Sagula has been at the helm for five of UNC's ACC crowns and nine of its 14 NCAA appearances.
One of the first questions I asked was, what is the purpose of a college recruiting video and how many do you view a year? It may come as a surprise to some, Joe responded by saying that a recruiting video is just an introduction to the player. The UNC staff does not sign an athlete based on a video. It will get the athlete noticed and if the athlete has the skills Joe wants, he would arrange a person visit. Joe and his staff watch approximately 1000 videos a year. Since there are so many, Joe commented that it is very important that the athlete be clearly identified, video shot from the back of the court and that the video be short, 2-5 minutes. He did add that showing a few minutes of game footage is very helpful because they see the mistakes the player makes. That is right, he wants to see the mistakes. Joe is not the only coach that has told me this. A coach knows that no player is perfect and wants to see the mistakes and how they carry themselves afterwards. Joe strongly suggests to put in the mistakes when creating a college recruiting video. When it comes to showing highlights, Joe does not really want to see serving. So many athletes send in videos with a minute worth of serves. What Joe wants to see is blocking, hitting, digs and how high a player can jump. These can be filmed in a controlled skill session followed by game footage. If you strength is hitting, then by all means show that in the game footage.
So often I get clients that want to add music to their recruiting videos. 99% of the coaches I have spoken with prefer not to have music put in the video. The majority of the coaches turn down the volume when they do receive a video with music.
In summary, Joe would like a video that is short, the player is clearly identified, filmed from behind the player and footage that showcases her skills and don't forget to add a few mistakes.
For more information on how to create the best college recruiting video, contact the experts at In Focus Studios for a free consultation. Our dedicated team of videographers, located in North Carolina and Maryland, will travel anywhere to meet all your video needs. Call today!
The following two tabs change content below.
Jeff is the founder of In Focus Studios. The company has serviced Maryland, DC, Virginia and North Carolina since 1999. Jeff began his video career by videotaping weddings, but was quickly introduced to the world of corporate video production. Since then he has produced marketing videos, medical videos and webcasts. He also works with athletes from Baltimore, Washington DC and Raleigh, NC. He is a fan of 80's music videos. He enjoys all aspects of video production, including lighting, directing and editing.
Latest posts by Jeff Philips (see all)