So, you recently "liked" our In Focus Studios page and realized that you're not seeing what In Focus Studios or the other businesses and groups you follow on Facebook are up to? In may not be your imagination, you may not be. Not long ago, Facebook rolled out changes that impact the information you see in your news feeds. Thankfully, the fix is an easy one.
If you'd like to see In Focus Studios posts in your news feed, simply visit our Facebook page and hover over the "Liked" Box. The box will be checked if you've liked our page. A dropdown will appear, and you'll see "Show in News Feed" in bold. Go ahead and click there to begin seeing In Focus Studios posts in your news feed.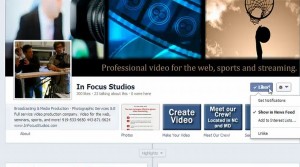 For those who enjoy a heads up whenever In Focus Studios posts, you'll want to begin receiving notifications. With the Facebook changes, notifications are off by default. So, while that dropdown box is up… check "Get Notifications."
These two simple changes will allow you to stay better connected with In Focus Studios and the other pages you enjoy. Be sure to share this information, so your friends know how to opt in to their favorite page's posts!
Thanks to Fireside for the information.
The following two tabs change content below.
Jeff is the founder of In Focus Studios. The company has serviced Maryland, DC, Virginia and North Carolina since 1999. Jeff began his video career by videotaping weddings, but was quickly introduced to the world of corporate video production. Since then he has produced marketing videos, medical videos and webcasts. He also works with athletes from Baltimore, Washington DC and Raleigh, NC. He is a fan of 80's music videos. He enjoys all aspects of video production, including lighting, directing and editing.
Latest posts by Jeff Philips (see all)